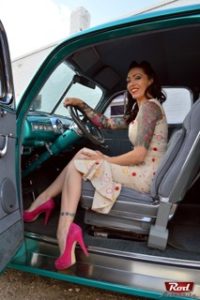 My name is Brooke Dolan and I am the brilliant mastermind behind Two Bits Barbershop (with the help of my loving husband Dan!). I have two children, Ryoko and Neo who I raised on my own until I married Dan in 2012. I was fortunate enough to spend a lot of time with my grandparents in Texas growing up and having my Poppy teach me the value of respect, hard work and what it means to take care of people. My parents instilled in me a strong work ethic and the belief that one is never done learning and that you should always try to be better than you are today. My sister Becky, on the other hand, helped me become the smarty pants that I am today!
I absolutely adore all things vintage, be it cars, knick naks, belt buckles, or clothes. I have a slight hording problem where it comes to antique straight razors thanks to my brother Kyler who taught me how to straight shave before my journey into professional barbering. It is my hope to bring back the true meaning of a barbershop, where conversation, stories, laughter and comradery will no longer seem like a lost art while getting a shave or cut. I want people to walk into my shop and feel so at home that they come by to visit even if they don't need a cut!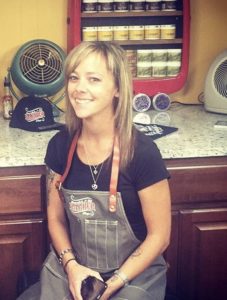 Cassie - Bio coming soon!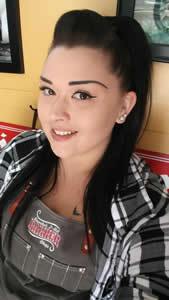 Hi! I'm Elena McMillian, I started at Brooke's Two Bit Barbershop in 2017 and am still super excited to be part of this amazing shop! I moved from North Carolina to Fort Collins in 1999, and graduated from Centennial High School in 2009. I have been in the beauty industry since 2012. Womens cuts and mens grooming are my passion and I couldn't see myself doing anything else as a career. I've been a licensed barber and hairstylist since 2016. I love doing shaves, beard work, clipper and scissor cuts of any kind, as well as design work with a straight razor. During my free time I enjoy spending it with my boyfriend Tommy and our dogs. I also like to draw, paint, write, watch anime & movies, cook, relax, check out live music and adventure around Colorado. I pride myself on having a perfectionists eye and attention to detail. I also consider our customers as not just clients but part of our extended family, I look forward to seeing you in my chair!