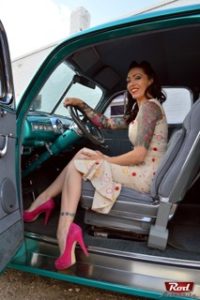 My name is Brooke Dolan and I am the brilliant mastermind behind Two Bits Barbershop (with the help of my loving husband Dan!). I have two children, Ryoko and Neo who I raised on my own until I married Dan in 2012. I was fortunate enough to spend a lot of time with my grandparents in Texas growing up and having my Poppy teach me the value of respect, hard work and what it means to take care of people. My parents instilled in me a strong work ethic and the belief that one is never done learning and that you should always try to be better than you are today. My sister Becky, on the other hand, helped me become the smarty pants that I am today!
I absolutely adore all things vintage, be it cars, knick naks, belt buckles, or clothes. I have a slight hording problem where it comes to antique straight razors thanks to my brother Kyler who taught me how to straight shave before my journey into professional barbering. It is my hope to bring back the true meaning of a barbershop, where conversation, stories, laughter and comradery will no longer seem like a lost art while getting a shave or cut. I want people to walk into my shop and feel so at home that they come by to visit even if they don't need a cut!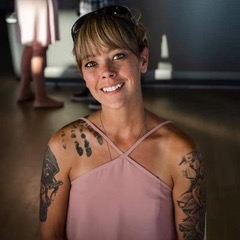 Once upon a time, in a life far, far away, Cassie was believed to have been Tupac's choreographer. However, at the age of 14, her dancing skills were not quite up to par for that particular task! Some also believe that in her 10 years of cutting hair and being a barber, that she just might be the reincarnation of Charlie Chaplin's barber. Rumor has it, he didn't talk very much but then again, neither did Cassie when she first started cutting the hairs. Perhaps that is what started that particular rumor, but alas, that is fake news as well. I do suppose that it is better that being mistaken for Sweeney Todd, the Demon Barber of Fleet Street! We are fortunate that she is a very kind person with a sense of humor that only her tribe of circus monkeys (that she trains) finds funny. For more fun stories, book with her today!! She may even give you some dance pointers if you ask…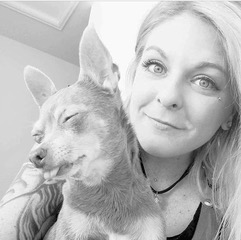 Carley has many hidden talents that are not at first clearly known to those around her. But if you dig deep and ask the right questions, you just might find that there is more to her than meets the eye! Now, we know that you have heard before about how she trained in the ancient art of thumb wrestling and that she is a world renowned stick fighting champion. However, what you don't know about her is that she once trained to be a professional biscuit dunker. Yes, her job involved testing biscuits to ensure that they would not fall apart if dunked in the perfect cup-o-joe (or tea). That job didn't really make her as happy as she knew that she could be, so she went on to be a semi-pro Mattress Jumper! Who knew that you could make a career out of jumping on a bed?! But the long hours of jumping, and more jumping just made her exhausted at the end of the day. That is when she decided to join our team and become a barber. If you have ever thought of pursuing a career in a very strange field, she is definitely the person that you want to speak to. To learn more about Carley's fascinating past, book your appointment with her today!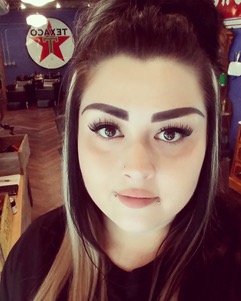 We are sorry to announce that Elena is no longer training Orangutans how to play ping pong. We know this is quite a blow to those of you who have been following her journey,  but do not fret! She has decided to pursue her new dream of becoming something even bigger, bolder and more badass! She has decided to go to Japan on her days off and learn the art of…ready for it?!….Kaiju Big Battel!!! That's right, she will be taught by the best of the best in Japan how to throw down like Godzilla in the worlds largest wrestling arenas. She will be wrecking cities and fighting big monsters in her attempt for world dominance and we have faith that she will get there. It may require her to fight off creatures such as Mothra, King Kong and the ever elusive King Ghidorah. If you know Elena the way we do, you know that she will not rest until she has defeated them all. However, in order for her to training to be maximized, it is imperative that her hand-eye coordination stays laser sharp. If you would like to help ensure that happens, book your next appointment with her! Every haircut and shave helps train her eyes and hands to be the best they can be. Book your appointment online now!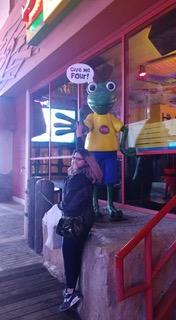 This may come as a shock to some, but Sal has recently decided to leave the sport of semi-pro hi-fiving. Yes, she won some epic battles and made quite the name for herself, but sometimes it's just time to roll on to the next thing. And that is just what she is doing! As of a month from now, she will be studying the sport of Cheese Rolling. You may have not heard of it before, but don't worry, we"ll get you up to speed on things! This particular sport involves rolling a 9 pound wheel of cheese down a long, steep hill while you try to catch it. Sounds like fun, right? The cheese turns into an edible wheel of death, reaching speeds up to 70 mph. Sal's goal is to attempt the same thing, but with a 15 pound wheel of Smoked Gruyere! Her first attempt will take place at Ffordd Pen Llech in the historic town of Harlech. We will be holding a contest to see who guesses the correct top speed of the cheese wheel! Keep your eyes out for more information in the near future! Book your appointment now to get all the details of this epic adventure.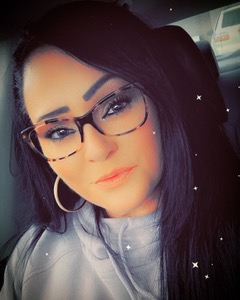 Chrissy has recently joined our crew of misfits and is already on her way to being the shop comedian. Prior to coming to Ft Collins, she was known all over the world for her musical chair skills.  Much like the movie "BASEketball" she learned the art of sh*it talking to take advantage of the other contestants. Now mind you, this is not the preschool version of musical chairs. No sir! This completion will see people getting booted for poor sportsmanship, cheating, potty mouths, and the ever frowned upon attempt to swipe the chair out from underneath someone (literally). Training started at a very young age and you could say she is now considered a master in the sport. Chrissy has succeeded in winning the championship title for the last 5 years and has decided that it's time to hang up the chair. She is now available to show you her cutting skills 5 days a week in our shop! To hear more about her musical chair career, book your next appointment with her now!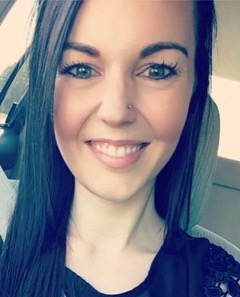 Much like the rest of our staff and prior to working with us, Ashley wasn't always an incredibly talented stylist.  In her previous life, she would go to a lovely little village in the Alps called Consonno once a year for an epic event called "Hide and Seek".  This event is done in teams that are divided into 4 groups. One team member will hide while the "''neutral searching team'' counts to sixty seconds. The participants then have ten minutes to jump out of their hiding spot and hit a target in the middle of the playing field, all the while avoiding being found or caught by the searching team.  Last year Ashley decided to try to up the ante by requesting to add foam shields and swords. Unfortunately, that effort failed but she still managed to get the most target hits!  To hear more about how this epic game of Hide and Seek is played, book your next appointment with Ashley now!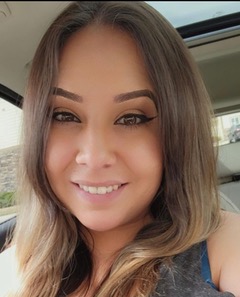 Tanisha is working with us full time as well as having a part time gig as the bodyguard for Jet Lee.  We know what you are thinking "Why does Jett Lee need a bodyguard? In person, he is quite a small fella but don't let that size fool you. He has ninja moves that could wipe just about anyone out but he only uses those skills while on set. He is a firm believer in only using your talents while getting paid so he keeps bodyguards to protect him during his daily outings. Tanisha was offered the job after posting a video of her hardcore Parkour Specialist skills on YouTube. The video showed her leaping across roofs, doing backflips down 20 flights of stairs, and even tightroping from one skyscraper to another. She really is quite talented! Unfortunately, the video had to be taken down due to the high profile job with Mr. Lee. But take our word for it, she is a super badass! If you'd like to hear more about her insane skills, book your next appointment with her now!