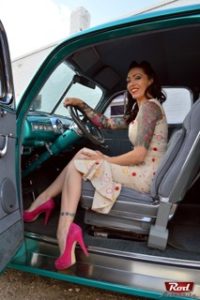 My name is Brooke Dolan and I am the brilliant mastermind behind Two Bits Barbershop (with the help of my loving husband Dan!). I have two children, Ryoko and Neo who I raised on my own until I married Dan in 2012. I was fortunate enough to spend a lot of time with my grandparents in Texas growing up and having my Poppy teach me the value of respect, hard work and what it means to take care of people. My parents instilled in me a strong work ethic and the belief that one is never done learning and that you should always try to be better than you are today. My sister Becky, on the other hand, helped me become the smarty pants that I am today!
I absolutely adore all things vintage, be it cars, knick naks, belt buckles, or clothes. I have a slight hording problem where it comes to antique straight razors thanks to my brother Kyler who taught me how to straight shave before my journey into professional barbering. It is my hope to bring back the true meaning of a barbershop, where conversation, stories, laughter and comradery will no longer seem like a lost art while getting a shave or cut. I want people to walk into my shop and feel so at home that they come by to visit even if they don't need a cut!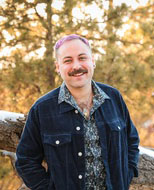 Cale comes to us from the town of Colorado Springs. While he is fully licensed as a barber, he has many hobbies that have nothing to do with his blossoming career. When he was a young fella, he always foundling great joy in playing with boomerangs. However, many neighborhood kids were getting a bit tired of taking the boomerang to the head. So, as you could guess, he had to find himself a new hobby. Cale always loved watching Sumo wrestling. so what's better than exploring the world of Sumo Suit Athletics?! Athletes competing in the Sumo Suit Athletics World Championships compete in standard athletic challenges, including a 100 meter sprint, the long jump, the high jump, shot put and a 400 meter endurance race –all while wearing a sumo suit. Cale had finally found his true calling in the faux sumo world! to hear more about his adventures and his trials and tribulations through his hobbies, book your next appointment with him now!